I am so excited to be paired for my first SLANT Box Exchange! I've seen others share their experience in the past, and when I stumbled across the sign up page once again, I knew I needed to do it. The theme for August is "Hometown Pride". So, I need to send some Fort St. John items. I think I'll send something from my childhood hometown, Powell River.
I've been paired with two other blogging ladies. Sarah lives in Florida! She will be sending me a box of goodies. You can visit her blog Juice Boxes and Glitter to see more about her. Love her glitter background. So cute!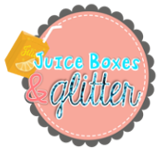 The second lady is Julie. I'll be sending a box to her in Ohio. She teaches grade 2/3 to students with intensive needs. She just started her blog, Laughing and Little Learners. I LOVE her blog design too. Owls are one of my weaknesses. My classroom is owl themed.
If you're interested in SLANT (Sending Love Across the Nation to Teachers) Box, you can check it out at
Lessons with Coffee
. Maybe even sign up for September?